My Blog
Posts for: October, 2013
By Cosmetic Dental & Implant Center
October 16, 2013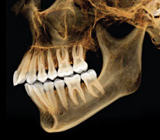 From its development and first use over a century ago, radiography — the use of x-rays to view internal images in the body — has revolutionized how dentists diagnose and treat patients. Now, a new technology known as Cone Beam Computing Tomography (CBCT) promises to take us "light years" beyond even today's most modern conventional x-ray devices.
X-rays expose images on special film after passing through a mass, like the human body. Because they pass more easily through soft tissues than through hard structures like teeth or bone, the softer tissues will appear darker. This property can reveal even subtle distinctions in density such as might be the case with a fracture or a tooth cavity.
Standard radiography, though, has its limitations. It takes extensive training and experience for a dentist to interpret exactly what they're seeing in an x-ray. Their two-dimensionality (like a photograph) limits the amount of information we can derive from the physical structures being examined. And due to radiation exposure to patients, we must limit the amount of their use for each individual patient.
CBCT improves on those limitations. The device projects a cone-shaped beam of x-rays as it rotates around a patient's head. During this rotation it records hundreds of images that a computer can later digitally format in a variety of ways. The result: instead of a two-dimensional flat view, we can now three-dimensionally view the mouth from a variety of different angles and in greater detail. Best of all, one scan can provide enough imagery data to view in detail the entire skull or a jaw, or something as minute as a single root canal within a tooth.
CBCT is already improving the accuracy of diagnostics and treatment in a variety of dental specialties, including orthodontics, implantation and oral surgery. And properly set, the radiation exposure is no more or less than a full-mouth series of x-rays, and up to ten times less than CT scanning.
Advances like CBCT increase the range and accuracy of diagnostics and improve treatment for a variety of conditions. As they grow in use, the result will be more successful dental outcomes for you and your family.
If you would like more information on CBCT diagnostics, please contact us or schedule an appointment for a consultation. You can also learn more about this topic by reading the Dear Doctor magazine article "Getting the Full Picture With Cone Beam Dental Scans."
By Cosmetic Dental & Implant Center
October 01, 2013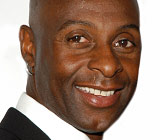 Athletic activity can boost your health, but many sports also carry some risk — especially to the teeth. This is something NFL wide receiver Jerry Rice well knows.
"Football can be brutal — injuries, including those to the face and mouth, are a common risk for any player," Rice noted in an interview with Dear Doctor magazine. In fact, Rice himself chipped a couple of teeth, which were repaired with crowns. "There wasn't a lot of focus on protecting your teeth in high school," Rice recalled.
You don't have to be a legend of the NFL to benefit from the type of high-quality mouthguard a dentist can make for you or your child. Consider that:
An athlete is 60 times more likely to suffer harm to the teeth when not wearing a mouthguard.
Mouthguards prevent an estimated 200,000 or more injuries each year.
Sports-related dental injuries account for more than 600,000 emergency room visits annually.
Each knocked-out tooth that is not properly preserved or replanted can cause lifetime dental costs of $10,000 to $20,000.
You and/or your child should wear a mouthguard if you participate in sports involving a ball, stick, puck, or physical contact with another player. Mouthguards should be used for practice as well as actual games.
It's also important to be aware that all mouthguards are not created equal. To get the highest level of protection and comfort, you'll want to have one custom-fitted and professionally made. This will involve a visit to our office so that we can make a precise model of your teeth that is used to create a custom guard. A properly fitted mouthguard is protective, comfortable, resilient, tear-resistant, odorless, tasteless and not bulky. It has excellent retention, fit, and sufficient thickness in critical areas.
If you are concerned about dental injuries or interested in learning more about mouthguards, please contact us today to schedule an appointment for a consultation. If you would like to read Dear Doctor's entire interview with Jerry Rice, please see "Jerry Rice." Dear Doctor also has more on "Athletic Mouthguards." and "An Introduction to Sports Injuries & Dentistry."