My Blog
Posts for: November, 2013
By Cosmetic Dental & Implant Center
November 25, 2013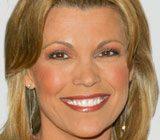 Here's an interesting tidbit of information on Wheel of Fortune host Vanna White: like many people, she grinds her teeth at night. In a detailed interview with Dear Doctor magazine, Vanna explained how she had to replace a filling in a back tooth several times because of her grinding habit. Eventually, she had her dentist make her a nightguard to protect her famous smile.
"I really try to sleep with it every night," Vanna told the magazine. "I try to keep it on my nightstand so when I go to bed, I remember to put it in. Or I will put it by my toothbrush so I can put it in after brushing my teeth at night."
The habit of teeth grinding or clenching is often associated with stress and/or sleep deprivation. It is referred to as "parafunctional" ("para" – outside, "function" – normal), meaning it can generate biting forces well outside the normal range — perhaps 10 times normal. This excessive force can affect many areas of the oral system. Teeth may become worn, chipped or loose; jaw joints or muscles can go into spasm; and some grinders (or "bruxers" as they are also called) may even experience discomfort of the head, ears, neck or back. Many times, a person with a grinding habit does not become aware of it until it is pointed out by a sleep partner or dental professional.
Like Vanna White's dentist, we often recommend a nightguard to those with nocturnal bruxing habits. It is made of a very thin, wear-resistant plastic that fits over the biting surfaces of the upper teeth only. The lower teeth are then free to glide or skate over the guard, which prevents them from biting into the upper teeth. Some people wear their guards during the day if they tend to clench their teeth when under stress.
If you are concerned about teeth grinding or interested in learning more about nightguards, please contact us today to schedule an appointment for a consultation. If you would like to read Dear Doctor's entire interview with Vanna White, please see "Vanna White." Dear Doctor also has more on "Stress & Tooth Habits."
By Cosmetic Dental & Implant Center
November 15, 2013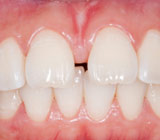 You have a beautiful smile, but with one noticeable flaw — there's a small gap between your two front teeth. It's a common occurrence that can be corrected with orthodontics.
There are a number of causes for this wider spacing, including an excessive overlap bite of the upper teeth over the lower, habits such as tongue-thrusting or finger-sucking, or extra (or even missing) teeth. But one of the most common is the presence of an overly large muscle attachment called a frenum or, as it's sometimes referred to, frenulum. If that's the case, you may need a minor surgical procedure in addition to orthodontic treatment to ensure the space remains closed.
The frenum is the fold of tissue that contains some muscle tissue that connects the gum to the lip. In certain people, a larger than normal frenum may extend further to the front of the roof of their mouth, just behind the teeth, and may also extend lower between the teeth and contribute to the gap. Unless some of this tissue is removed, it can force the teeth apart again after the gap has been closed through orthodontics.
This simple procedure is called a frenectomy. After numbing the area with a local anesthetic, we remove the excess tissue from the frenum extended into the space between the teeth, using either a small scalpel or a special laser. The resulting wound is generally very small and may require only a few stitches, if any. Healing usually takes no more than a week and any discomfort is easily managed by anti-inflammatory medication like aspirin or ibuprofen.
As a general rule, a frenectomy is best performed after the orthodontic treatment so that scar tissue resulting from the procedure won't interfere with the gap closure. With proper dental follow-up, the gap should stay closed — and your new enhanced smile won't fade away.
If you would like more information on treating spaces between teeth, please contact us or schedule an appointment for a consultation. You can also learn more about this topic by reading the Dear Doctor magazine article "Space Between Front Teeth."