My Blog
Posts for: June, 2014
By Cosmetic Dental & Implant Center
June 11, 2014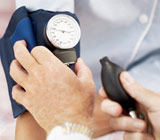 It's time for your semi-annual visit to our office. As we prepare for your examination and teeth cleaning, we may also take a moment to check your blood pressure.
No, you're not in the wrong office. The fact is, blood pressure screenings in dental offices are becoming more prevalent. The reason is twofold: as one of your healthcare providers, we may be able to identify a problem with your blood pressure that has previously gone unnoticed; and hypertension (chronic high blood pressure) and any drugs you may be taking for it can affect your dental health and how we provide treatment.
Hypertension, the medical term for high blood pressure, is usually regarded as any sustained pressure greater than 125/80 mm Hg (millimeters of mercury). It's been identified as a major cause of cardiovascular disease, a family of heart-related diseases that affect an astounding 80 million people in the United States. Chronic hypertension has gained a reputation as "the silent killer" — many people are unaware they have it and if left untreated can lead to more serious conditions such as stroke or heart attack. It's also a symptom of diabetes, even in the absence of other symptoms.
As part of your healthcare team, we're in a good position to screen for hypertension and other general health problems. At the same time, hypertension is an important factor in dental care, especially if you are on regulating medication. Many anti-hypertensive drugs have side effects, such as dry mouth, that can affect your oral health. Your pressure status and medications may also affect the types and dosages of local anesthetics we would use during procedures; many of these constrict blood vessels (known as vasoconstrictors), which can elevate blood pressure.
A simple blood pressure check could reveal a health problem you didn't even know about. It also helps us provide you with better and safer dental care.
If you would like more information on the effects of high blood pressure on your dental health, please contact us or schedule an appointment for a consultation. You can also learn more about this topic by reading the Dear Doctor magazine article "Monitoring Blood Pressure."
By Cosmetic Dental & Implant Center
June 03, 2014
Do you ever find yourself hiding your teeth when you laugh? In pictures, do you hold back your smile because you're unhappy about the appearance of missing teeth? You may be in need of a smile makeover from
North Atlanta dental implant
dentist
, Dr. M. James Fagan.
Benefits of Dental Implants
Dental implantation
is an innovative way to resolve issues with missing teeth. Traditional solutions include bridgework (supported by adjacent teeth) or dentures, but they aren't a permanent fix to the problem.
During a tooth implant procedure in North Atlanta, a prosthetic appliance is installed into the jawbone that will securely support an artificial tooth (crown). The procedure can be done on one or more teeth. A tooth root implantation can also be used to support a bridge or to anchor an existing denture appliance in place. When you get a dental implant it's like having your original tooth back again—it's yours! The only difference is that the "root" of the tooth is made of metal or ceramic.
There are a number of benefits to having new teeth implanted:
Your face and jawline maintain its shape
Helps preserve and strengthen the bone beneath your gums
It makes chewing and processing your food easier
It gives you peace of mind in social situations (it's secured in place)
Your restoration can be perfectly shaped to comfortably fit the space in your teeth
Give Yourself an Instant Confidence Boost
Replacing a missing tooth is one of the quickest and easiest ways to improve your appearance and boost your self-confidence. Flashing a big smile really brightens up your face and features, so when you're afraid or hesitant to smile, you can't bless the world with your full beauty. An implanted crown may be the simplest and most efficient solution for you.
Dr. M. James Fagan of Cosmetic Dental & Implant Center is a North Atlanta implant dentist who specializes in giving people the smile that they've always dreamed of. Contact his office at 404-255-5006 or visit DrFagan.net to schedule an appointment online today.