My Blog
Posts for: March, 2015
By Cosmetic Dental & Implant Center
March 16, 2015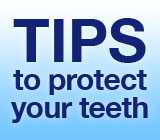 Teeth are composed of layers of different types of tissue. The main inner layers — the pulp and dentin — help the teeth respond and adapt to external forces. But they're vulnerable to decay and quite sensitive to environmental extremes. They are protected from all these by a coating of enamel, made of the hardest material found in the human body.
But while enamel is strong, it's not invincible — it can soften and dissolve (de-mineralize) if the mouth environment becomes too acidic. While de-mineralization occurs normally whenever the mouth becomes too acidic after eating or drinking, saliva helps neutralize the acid (buffering); in fact, saliva can restore to the enamel some of the calcium and other minerals it has lost (a process called re-mineralization).
If the acidic level remains too high for too long it can overwhelm saliva's buffering ability and cause permanent mineral loss to the enamel. This erosion leaves teeth more susceptible to decay and disease and could lead to tooth loss. With this in mind, here's some ways you can help preserve your enamel:
Wait about thirty to sixty minutes after eating or drinking to brush your teeth. Counterintuitive as this may sound, it takes about thirty minutes for saliva to restore a normal pH level and re-mineralize the enamel. If you brush within this window of time, you could brush away some of the softened minerals from the enamel.
Only brush twice a day. Over-brushing causes undue enamel wear, as well as contributing to receding gums.
Take advantage of less acidic or mineral-rich beverages. Drink milk or water most of the time, rather than juices, sodas or sports drinks. The calcium in milk or as an additive to acidic beverages aids in buffering and re-mineralization.
Use a straw for acidic beverages. With a straw your teeth avoid direct contact with most of the beverage's acid, a key factor in de-mineralization.
Avoid eating just before bed. Saliva flow decreases significantly when we sleep. If you eat right before bed, there may be less saliva available for buffering and re-mineralization.
Following these tips, along with effective oral hygiene, will go a long way in protecting your teeth's enamel coating — and preserving your teeth in the long run.
If you would like more information on enamel erosion and how to prevent it, please contact us or schedule an appointment for a consultation. You can also learn more about this topic by reading the Dear Doctor magazine article "6 Tips to Help Prevent the Erosion of Tooth Enamel."
By Cosmetic Dental & Implant Center
March 06, 2015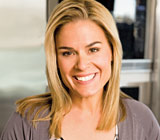 When asked about her dazzling white smile, Cat Cora, the first female iron chef on the hit television series Iron Chef America, freely admits to maintaining the brightness of her smile with professional whitening sessions.
"With what I do, whitening your teeth is like getting your hair done, your nails done and everything else you have to do to be on television," Cat recently told Dear Doctor magazine. However, she does have her limits. "I want my teeth to be white and healthy looking — but not stark white or looking like they could glow in the dark," she said with a laugh.
Cat's perceptions and experiences with tooth whitening may accurately describe Hollywood, but through the power of media, celebrities and their respective fan bases, having attractive white teeth has become a goal for most people. This is because white teeth are subconsciously associated with youth and virility.
Here in the dental office, we can use professional-strength "power bleaching" to whiten teeth several shades in a single visit. To prevent irritation to the area surrounding the teeth being treated, we isolate the gums and skin of the mouth with a protective gel or a rubber barrier known as a dental dam. After the whitening solution is placed on the teeth, the process may be supplemented by heat or a light source to activate or enhance peroxide release.
For bleaching teeth at home, our office can make custom-fitted bleaching trays that you fill with a gel form of carbamide peroxide. Sometimes this whitening gel can cause a temporary tooth sensitivity to hot and cold, but this normally lasts for no more than four days after you stop bleaching your teeth.
To learn more about tooth whitening, you can continue reading the Dear Doctor magazine article "Teeth Whitening." Or you can contact us today to schedule an appointment so that we can conduct a thorough examination and discuss what treatment options will be best for you. And to read the entire interview with Cat Cora, please see the article "Cat Cora."