My Blog
Posts for tag: cleft palate
By Cosmetic Dental & Implant Center
July 03, 2018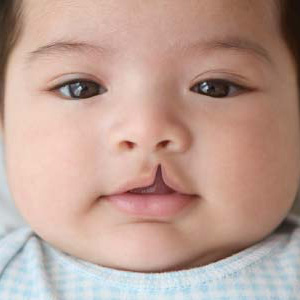 About one American baby in 700 is born with some form of lip or palate cleft—and the percentage is even higher in other parts of the world. At one time this kind of birth defect sentenced a child to a lifetime of social stigma and related health issues. But thanks to a surgical breakthrough over sixty years ago, cleft defects are now routinely treated and repaired.
Oral and facial clefts happen because a child's facial structure fails to develop normally during pregnancy. This causes gaps or "clefts" to occur in various parts of the mouth or face like the upper lip, the palate (roof of the mouth), the nose or (more rarely) in the cheek or eye region. Clefts can have no tissue fusion at all (a "complete" cleft) or a limited amount (an "incomplete" cleft), and can affect only one side of the face ("unilateral") or both ("bilateral").
There was little that could be done up until the early 1950s. That's when a U.S. Navy surgeon, Dr. Ralph Millard, stationed in Korea noticed after reviewing a series of cleft photos that tissue needed to repair a cleft was most often already present but distorted by the defect. From that discovery, he developed techniques that have since been refined in the ensuing decades to release the distorted tissue and move it to its proper location.
This revolutionary breakthrough has evolved into a multi-stage approach for cleft repair that often requires a team effort from several dental and medical professionals, including oral surgeons, orthodontists and general dentists. The approach may involve successive surgeries over several years with dental care front and center to minimize the threat of decay, maintain proper occlusion (the interaction between the upper and lower teeth, or "bite"), or restore missing teeth with  crowns, bridgework or eventually dental implants.
While it's quite possible this process can span a person's entire childhood and adolescence, the end result is well worth it. Because of these important surgical advances, a cleft defect is no longer a life sentence of misery.
If you would like more information on treatment for a cleft lip or palate, please contact us or schedule an appointment for a consultation. You can also learn more about this topic by reading the Dear Doctor magazine article "Cleft Lip & Cleft Palate."
By Cosmetic Dental & Implant Center
May 15, 2015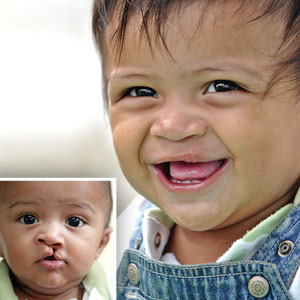 One of the most common and anguish-filled birth defects is a cleft lip or palate (roof of the mouth). Not only do clefts disrupt the normality of a child's facial appearance, they can also lead to problems with chewing, speech and the long-term health of teeth and gums.
A cleft is a tissue gap that occurs during fetal development, usually in the first trimester, in which parts of the baby's face fail to unite. Why this occurs is not fully understood, but vitamin imbalances in the mother, exposure to radiation or other toxic environments, or infections are all believed to play a role.
Facial clefts are classified as either incomplete, in which there is some but not full tissue fusion, or complete, with no fusion at all. A cleft can be unilateral, affecting only one side of the face, or bi-lateral, affecting both sides. During infancy a cleft can adversely affect a child's ability to nurse, and it sometimes disrupts breathing. As the child grows, speech patterns may be severely disrupted and their teeth and bite may not develop properly.
Fortunately, there have been dramatic advances in cleft repair over the past sixty years. It's actually a process that can span a child's entire developmental years and involve the expertise of a number of surgical and dental specialists. For a cleft lip, the initial surgical repair to realign and join the separated tissues usually occurs around three to six months of age; repair of a cleft palate (where the gap extends into the roof of the mouth) between 6 and 12 months.
Subsequent procedures may be needed in later years to refine earlier results and to accommodate the mouth's continuing growth. At some point the treatment focus shifts to cosmetic enhancement (which can include implants, crown or bridgework) and periodontal health, to ensure gum tissues that support teeth and gums aren't compromised by the effects of the cleft or its treatment.
At the end of this long process, something of a miracle may seem to occur: a young person's once disfigured mouth transforms into a beautiful smile. It's a chance for them to gain a normal life — and a new lease on physical, emotional and oral health.
If you would like more information on cleft reconstructive surgery, please contact us or schedule an appointment for a consultation.