My Blog
Posts for tag: dentures
By Cosmetic Dental & Implant Center
August 01, 2020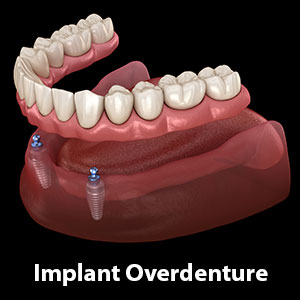 Even in the 21st Century, losing most or all of your teeth is still an unfortunate possibility. Many in this circumstance turn to dentures, as their great-grandparents did, to restore their teeth. But today's dentures are much different from those of past generations—and dental implants are a big reason why.
The basic denture is made of a gum-colored, acrylic base with artificial teeth attached. The base is precisely made to fit snugly and comfortably on the patient's individual gum and jaw structure, as the bony ridges of the gums provide the overall support for the denture.
Implants improve on this through two possible approaches. A removable denture can be fitted with a metal frame that firmly connects with implants embedded in the jaw. Alternatively, a denture can be permanently attached to implants with screws. Each way has its pros and cons, but both have two decided advantages over traditional dentures.
First, because implants rather than the gums provide their main support, implant-denture hybrids are often more secure and comfortable than traditional dentures. As a result, patients may enjoy greater confidence while eating or speaking wearing an implant-based denture.
They may also improve bone health rather than diminish it like standard dentures. This is because the forces generated when chewing and eating travel from the teeth to the jawbone and stimulate new bone cell growth to replace older cells. We lose this stimulation when we lose teeth, leading to slower bone cell replacement and eventually less overall bone volume.
Traditional dentures not only don't restore this stimulation, they can also accelerate bone loss as they rub against the bony ridges of the gums. Implants, on the other hand, can help slow or stop bone loss. The titanium in the imbedded post attracts bone cells, which then grow and adhere to the implant surface. Over time, this can increase the amount of bone attachment and help stymie any further loss.
An implant-supported denture is more expensive than a standard denture, but far less than replacing each individual tooth with an implant. If you want the affordability of dentures with the added benefits of implants, this option may be worth your consideration.
If you would like more information on implant-supported restorations, please contact us or schedule an appointment for a consultation. You can also learn more about this topic by reading the Dear Doctor magazine article "Overdentures & Fixed Dentures."
By Cosmetic Dental & Implant Center
June 28, 2019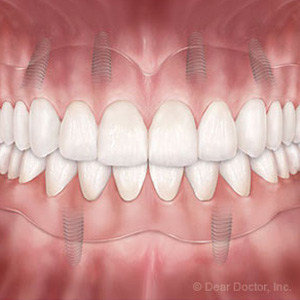 Even with modern prevention and treatment advances, losing teeth in later life is still a sad but common part of human experience. Just as generations have before, many today rely on dentures to regain their lost dental function and smile.
But although effective, dentures have their weaknesses. The most serious: they can't prevent jawbone deterioration, a common problem associated with tooth loss.
Bone health depends on chewing forces applied to the teeth to stimulate replacement growth for older bone cells. When teeth are gone, so is this stimulation. Dentures can't replicate the stimulus and may even accelerate bone loss because they can irritate the bone under the gums as they rest upon them for support.
But there's a recent advance in denture technology that may help slow or even stop potential bone loss. The advance incorporates implants with dentures to create two hybrid alternatives that may be more secure and healthier for the supporting bone.
The first is known as an overdenture, a removable appliance similar to a traditional denture. But instead of deriving its support from the gums alone, the overdenture attaches to three to four implants (or only two, if on the lower jaw) that have been permanently set into the jawbone. This not only increases stability, but the implants made of bone-friendly titanium attract and foster increased bone growth around them. This can help slow or even stop the cycle of bone loss with missing teeth.
The second type is a fixed denture. In this version, four to six implants are implanted around the jaw arch. The denture is then secured in place to these implants with screws. It's a little more secure than the overdenture, but it's also more expensive and requires good quality bone at the implant sites.
If you've already experienced significant bone loss you may first need bone grafting to build up the implant sites for these options, or choose traditional dentures instead. But if you're a good candidate for an implant-supported denture, you may find it provides better support and less risk of continuing bone loss than traditional dentures.
If you would like more information on implant-supported dental restorations, please contact us or schedule an appointment for a consultation. You can also learn more about this topic by reading the Dear Doctor magazine article "Overdentures & Fixed Dentures."
By Cosmetic Dental & Implant Center
October 27, 2014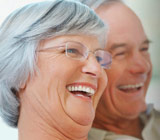 While dental implants are considered the gold standard for tooth replacement, removable dentures are still a viable choice, especially for patients with edentulism (complete tooth loss). Removable dentures have also undergone considerable advancement to improve their function, appearance and longevity.
But even with these advancements, dentures still require a fair amount of skill, experience and — of utmost importance — a sense of art. If you're considering this option, long-term success depends on a careful process of construction, fit adjustment and regular checkups to maintain that fit.
Our first step is to determine exact tooth placement on each denture. Using facial features (or photos before tooth loss) we establish placement landmarks so that corresponding upper and lower teeth align properly. We also consider tooth size, their orientation in relation to the lip, and the needed space to leave between the upper and lower teeth when they are at rest. We make these determinations based on accepted standards of beauty, but also taking into account your particular comfort level with any features that might alter your appearance.
The denture's gums must also look realistic when you smile, especially if your upper lip rises above the teeth to expose more gum tissue. We also want to match the color and texture of your natural gums, as well as incorporate palatal rugae, the little ridges behind the upper front teeth that aid with speech and chewing food.
When we first place the new dentures in your mouth, we may need to adjust them for balance between the upper and lower sets when they come together. An imbalanced fit could have an adverse effect on your ability to bite, chew and speak normally.
Your dentures should have a good, comfortable fit. Over time, however, you will encounter some degree of bone loss because you no longer have your natural teeth to stimulate bone growth and absorb the forces created during function when your teeth contact. This and other factors may cause your dentures to become loose and uncomfortable to wear. For that reason, it's important for you to visit us regularly to maintain that good fit and check the health of underlying tissues and bone.
Careful planning and denture construction help ensure your new dentures successfully restore form and function to your mouth. Regular monitoring will also ensure they continue to serve you well for as long as possible.
If you would like more information on removable dentures, please contact us or schedule an appointment for a consultation. You can also learn more about this topic by reading the Dear Doctor magazine article "Removable Full Dentures."