My Blog
Posts for tag: nutrition
By Cosmetic Dental & Implant Center
August 07, 2019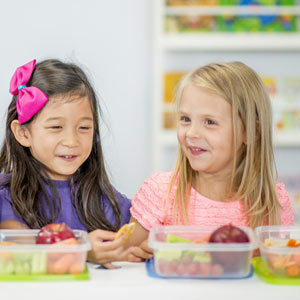 With summer winding down, parents are turning their attention to their kids' upcoming school year. August is often a busy time for families rushing to buy school supplies and fresh sets of clothes and shoes. Although hectic, these last few weeks before school starts are also ideal for focusing on dental health.
As you prepare for the school year, be sure to include these dental health items on your to-do list.
Make a dental appointment. Start the school year off right with a dental cleaning and checkup. Along with daily hygiene, dental visits are key to disease prevention and optimal oral health. Make those appointments early, though: Most dentists report an upsurge in patient visits this time of year.
And if you haven't already, set up an orthodontic evaluation: Having an orthodontist examine your child around age 6 could uncover an emerging bite problem. Early intervention might prevent the need for more costly future orthodontic treatments.
Plan for healthy school snacking. While kids are home on summer break, it's probably easier to keep an eye on the quality of their snacks. But being away from your watchful gaze at school means your children may encounter snacks that are not quite up to your tooth-healthy standards.
Even though schools adhere to federal nutrition standards for food provided on school property, many dentists don't believe they go far enough. Your kids' classmates can also be a source of unhealthy snack choices, so plan ahead to provide your kids an array of snacks to carry to school that they like and that support healthy teeth and a healthy body.
Get a custom mouthguard for your student athlete. If your child is going to play football, basketball or some other contact sport, make sure they have dental protection. A hard impact to the face can cause significant dental damage that's costly to treat, but a mouthguard worn during play can protect the teeth and gums by cushioning the blow.
You can purchase retail mouthguards at your local sporting goods store. Your best option, though, is a mouthguard custom-made by your dentist based on your child's individual mouth measurements. Although more expensive, custom mouthguards offer superior protection, and they're more comfortable to wear.
When the school bell rings, you want your kids as prepared as possible. Make sure their teeth and gums are ready too. If you would like more information about best practices for your child's dental care, please contact us or schedule an appointment for a consultation. To learn more, read the Dear Doctor magazine articles "Snacking at School" and "Athletic Mouthguards."
By Cosmetic Dental & Implant Center
September 11, 2018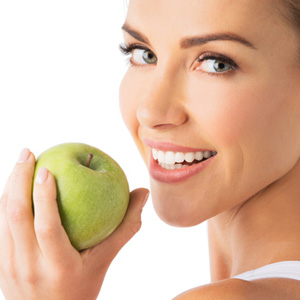 If you're brushing and flossing daily, as well as seeing your dentist at least every six months, you're doing the top things needed to maintain your dental health. But all your hygiene efforts could be undermined if you're not eating a dental-friendly diet. Simply put, there are foods that protect and promote dental health and those that increase your risk of dental disease.
Diets in the latter category are typically high in added sugar and low in natural food fiber. The largest sources of these are processed sugars from sugar cane or beets and high fructose corn syrup. With just a little knowledgeable label reading, you can find sugar and its various aliases added to thousands of processed food items including pastries, candies, sodas and energy drinks.
Heavy consumption of processed sugars also contributes to dental disease. Disease-causing bacteria thrive on sugar as a food source, which fuels both their growth and their production of oral acid. Elevated acid levels can dissolve the minerals in tooth enamel faster than saliva can keep up. Softened enamel opens the door to tooth decay, while increased bacterial growth can lead to periodontal (gum) disease.
A diet, however, low in added sugar and high in fiber can have the opposite effect. Although fresh fruits and vegetables contain natural sugars, they also have indigestible parts called fiber that slow the digestion of any sugars and allow the body to more efficiently process them.  With the higher quantity of vitamins and minerals found in unprocessed foods, the overall effect of this diet is a decrease in your risk for dental disease.
Speaking of dental-friendly foods, we should also give honorable mentions to certain dairy items like cheese and milk that stimulate saliva production and are rich in calcium needed for tooth strength. Another beneficial category is both black and green tea, which contain antioxidants to fight disease and fluoride to strengthen enamel.
Adopting a low-sugar/high-fiber diet can have a profound impact on your overall health. Over time, you'll also reap dental health rewards with stronger teeth and gums and a lower risk of tooth decay and gum disease.
If you would like more information on diet and oral health, please contact us or schedule an appointment for a consultation. You can also learn more about this topic by reading the Dear Doctor magazine article "Nutrition & Oral Health."
By Cosmetic Dental & Implant Center
June 16, 2017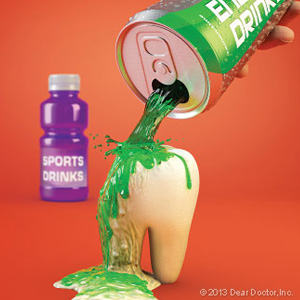 Energy drink makers would have you believe their products are a healthy rehydration choice for athletes while also giving them keener focus and renewed vitality. But before adding them to your sports regimen, you should also consider what effect these beverages could have on your teeth.
Energy drinks are similar in ingredients to sports drinks like Gatorade® and PowerAde®, which mostly consist of water, salts, vitamins, sugars and acids. In addition, energy drinks like Red Bull® and Monster Energy® add caffeine to boost energy.
Besides their sugar content, the main threat from a dental health perspective for both of these drinks is their acidity, which can severely erode tooth enamel. The irreplaceable loss of enamel significantly increases your risk of tooth decay and eventually tooth loss.
The threat of enamel erosion is especially pronounced whenever the mouth's pH level falls below 5.5. The acidity of both sports and energy drinks falls well below this mark. In one experimental study samples of enamel exposed to a number of sports drinks lost an average of 1.5% of mineral content over five days; energy drinks more than doubled that loss at 3.1%.
Given the potential harm these beverages, especially energy drinks, can cause your teeth, you should exercise caution when consuming them. In fact, our best advice is for you to avoid energy drinks altogether, for your overall health as well as your teeth's sake.
Unless you're participating in a physically intense sport, water is your best source for hydration after exertion. Â If you do drink sports beverages, try to limit them to meal times when your saliva is most active to neutralize mouth acid. You can also rinse out your mouth with water after drinking to help further reduce mouth acidity.
As an athlete, you've trained your body to be at its optimum physical peak. Don't let energy or sports drinks take the edge off your health, especially your teeth.
If you would like more information on the effects of sports or energy drinks on dental health, please contact us or schedule an appointment for a consultation. You can also learn more about this topic by reading the Dear Doctor magazine article "Sports and Energy Beverages Bathe Teeth in Erosive Acids."